chevron_right

Humanity is the reimagined 3D Lemmings we didn't know we needed

news.movim.eu / ArsTechnica · Friday, 24 February - 17:55 · 1 minute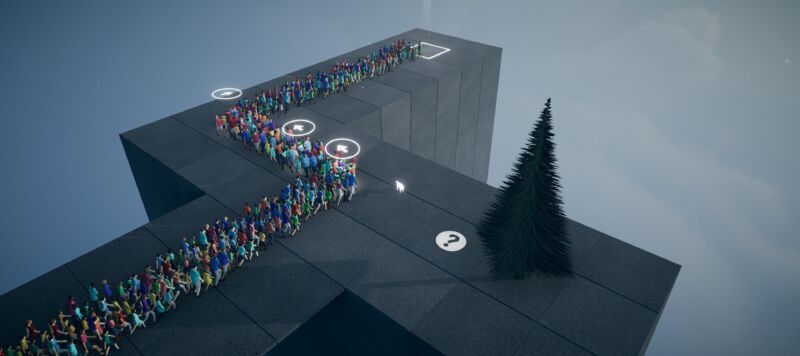 Is it a bad time or the perfect time to release a game about humans mindlessly marching toward their doom unless an ethereal Shiba Inu guides them toward the light?
Humanity , a new puzzle-and-somewhat-platformer game from the publisher of T etris Effect , was shown off in a trailer at Sony's State of Play event last night, and in many ways, it stole the show from more traditional big-name titles. It was originally announced in 2019 but is looking much more defined, surreal, and beautiful ahead of its May 2023 launch. You can play a demo on PS4, PS5, PSVR, PSVR 2, and PC from now until 3 am on March 6. I highly recommend that you do.
The premise will be familiar to fans of the Amiga classic Lemmings , but the execution is markedly different. You are a glowing dog. Faceless, polygonal humans—said to be "without soul, without intellect, without a will of their own—are shambling out of an entry point in a blocky 3D landscape. You hear a voice telling you to guide them toward the light. You do this by putting various instructions onto the cubic tiles, forcing the humans to turn, jump, float, and otherwise divert from their death by falling, trampling, or other means. Some amount must reach a tile that lifts them into a glowing sky, but not all of them.