chevron_right

Review: Dell's new UltraSharp monitor has high-contrast IPS Black screen

news.movim.eu / ArsTechnica · Tuesday, 22 November - 20:01 · 1 minute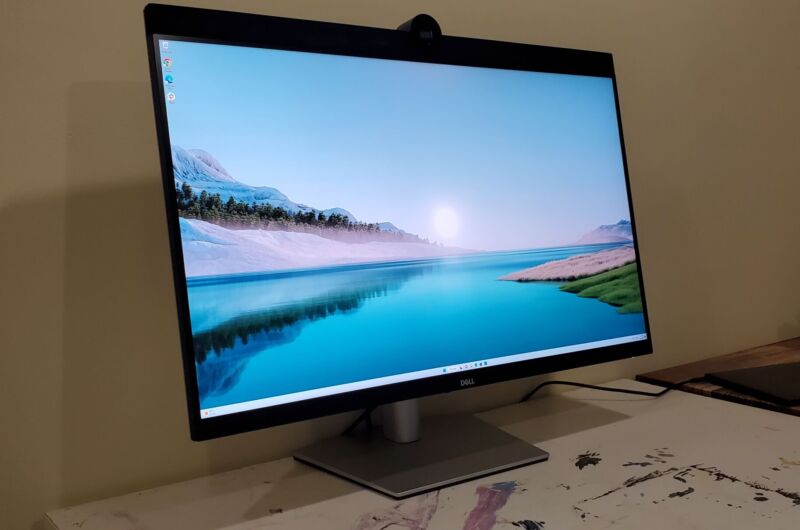 Specs at a glance: Dell UltraSharp U3223QZ
Panel size
31.5 inches
Resolution
3840×2160
Refresh rate
60 Hz
Panel type and backlight
IPS Black, LCD
Ports
2x USB-C upstream, 1x USB-C downstream, 1x HDMI 2.0, 1x DisplayPort 1.4, 1x DisplayPort 1.4 out, 5x USB-A downstream, 1x 3.5 mm, 1x RJ45
Size
28.06 × 9.06 × 19.6-25.48 inches with stand
(712.6 × 230 × 497.84-647.27 mm)
Weight
26.23 lbs
(11.9 kg)
Warranty
3 years
Price (MSRP)
$1,280
I get it; not everyone finds monitors as exciting as I do. For most people, a little extra color or a larger range of tones don't really differentiate one screen from another. So I don't blame Dell for stuffing the UltraSharp U3223QZ 4K monitor with fluff like motion-activated controls, monstrous speakers, and a webcam with presence detection. But after weeks with the monitor, I found none of those extra features as exciting as the monitor's IPS Black panel.
The U3223QZ has a lot to prove. For one, it debuted at the same MSRP as the 5K Apple Studio Display (starts at $1,600 ). Since then, Dell has made the price more competitive ( $1,280 as of writing), but it's still expensive for a 31.5-inch monitor. Dell's U3223QZ is also one of the few monitors to use IPS Black technology, which is supposed to yield about twice the contrast as the typical IPS monitor. I confirmed this with a colorimeter and, more enjoyably, with my eyes.
The bonus features on the U3223QZ have their pluses. The speakers are louder than average and the webcam can automatically log you in and out. But for many people, it makes sense to save money and buy the version of this monitor without the webcam ... and without a dedicated Microsoft Teams button.