chevron_right

Donating to Linux Slackware for OIDC LoRa BitTorrent install

preptorrent · Wednesday, 21 September - 21:18 edit · 5 minutes
Quick Notice: For the other money donation to Gnome Foundation, see this other link. Money donation to Gnome Foundation https://mov.im/?blog/preptorrent%40movim.eu/donating-5-usd-to-gnome-foundation-jp4OiJ
Public Post Movim Link https://mov.im/?blog/preptorrent%40movim.eu/donating-to-linux-slackware-for-oidc-lora-bittorrent-install-YKQAaj
Today I sent Linux Slackware Money for Patrick Volkerding and perhaps others will do so too. #SlackwareBitTorrentOIDCLoRa I attach a trimmed screenshot to show how it was done. I included a message asking slackware to put SimpleSAMLphp (for setting up an OIDC and OAuth2 user registration server) on the distro CDROM ISO and an ability to enter a bittorrent magnet link of another Linux Distro (including another Slackware, be it newer or older to download and install instead or as well as the Slackware version on the ISO CDROM being installed), and a LoRa icon that works like the Wifi icon on the desktop of XFCE in Slackware. If you think about it, even if it took all day long, a LoRaWAN connection could just about send a trickle of data as a magnet-link for a linux distro ISO to a computer, ready to install when a wifi connection (presumably with internet) becomes available, capable of downloading that distro (maybe just be a 50MB DamnSmallLiunx Iso or a larger filesize slackware CDROM).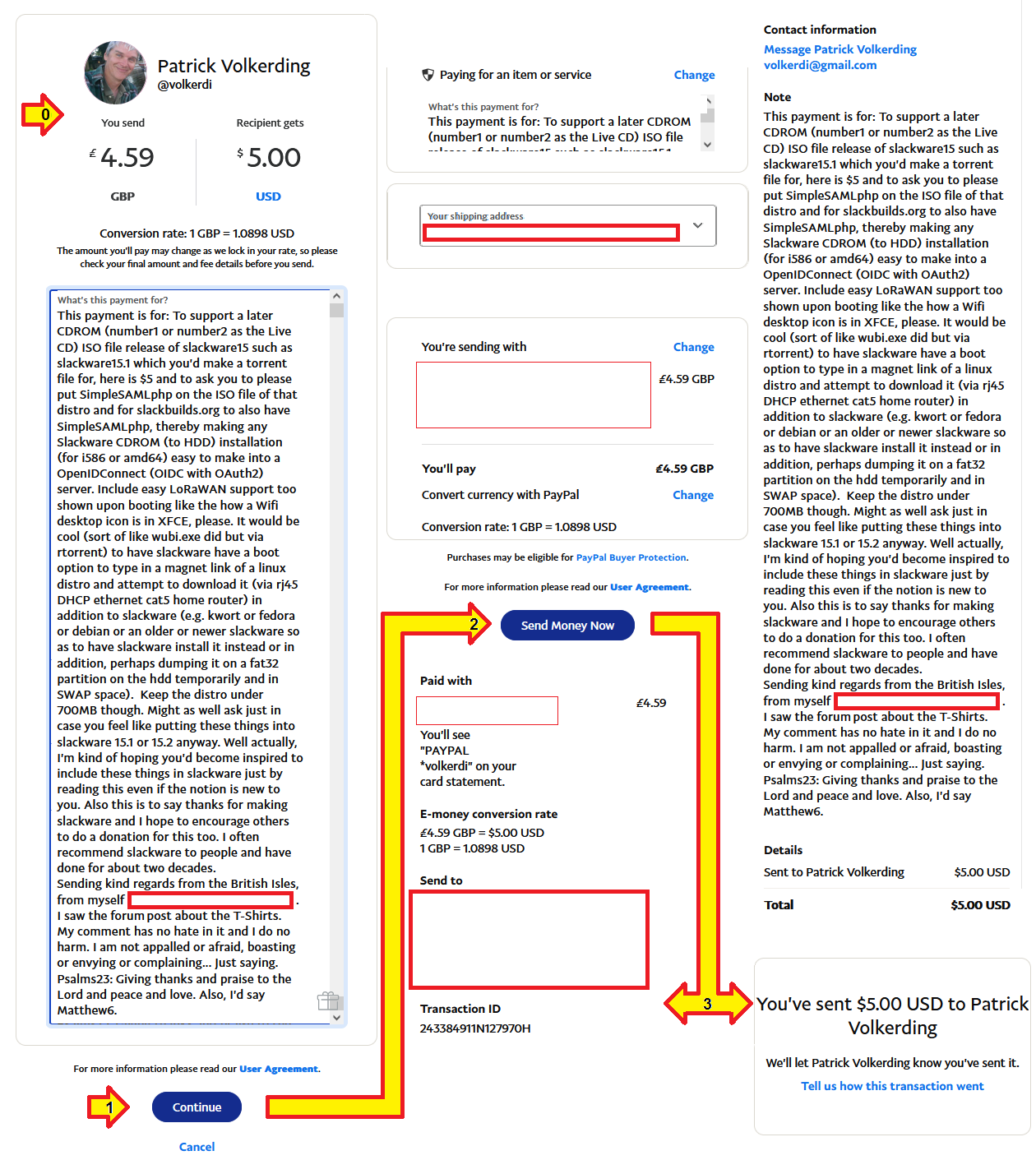 So I have uploaded an image file to show how the money was sent so that, if other people wish to send their own money to Linux Slackware Money for Patrick Volkerding, they can see what to click.
The link to use Paypal for this is at this URL, below.
Sending Linux Slackware Money for Patrick Volkerding
https://paypal.me/volkerdi
Just to confirm this is the same volkerdi@slackware.com and volkerdi@gmail.com if you are looking for various donation methods (and please do see the forum link below).
As I used Paypal, I could add a message. Remember to keep such a paypal message half the size of the 'wordcount' shown in the screenshot. Whilst mentioning the Payapal donation transaction ID 243384911N127970H (to uniquely identify it to both the recipient and sender), I have also made a suggestion that slackware slackbook2 languages could be included on the slackware distro CDROM ISO such as via PDF now if they become available. On the translations slackbook slackware website, many languages links for that manual of slackbook are broken-links. I'd say for Slackware linux, create a translation of the slackbook manual in two (mutually intelligible) languages in Hanifi Rohingya script (Rohingya) Ruáingga and also Chittagonian (Bangladesh) চাটগাঁইয়া saṭgãia or চিটাইঙ্গা siʈaiŋga and English, French, portuguese, Hindu-Urdu sanskrit, Chinese (mandarin/unihan), Japanese, Korean, Arabic, Indonesian sanskrit (e.g. pallava script), Russian, Cambodian-Thai Khmer language, Amharic Ethiopian, Swahili language. Obviously other languages like Dutch and German and so on can exist but these main languages cover the world in varius geographic areas and with differing alphabets and languages which can be understood by many as second language (for example like how most chinese people do not speak english as a 2nd language but there are so many chinese english speakers on account of the great many chinese people that the language stills gets good coverage over many a landmass). Portuguese and Spanish people can eventually understand each other (pretty much) if they listen hard and stick to mutually commonplace wordings each. Some Dutch people in Holland would understand something of the language of South Africa, eventually. Ironically of course, they'd probably both know somebody who speaks some part of english too. Elsewhere in blogging, I encourage the translation of slackbook into the languages of rohingya and chittagonian with the #slackbookrohingyachittagonian hashtag.
As I used Paypal, I could add a message. Here it is:
This payment is for: To support a later CDROM (number1 or number2 as the Live CD) ISO file release of slackware15 such as slackware15.1 which you'd make a torrent file for, here is $5 and to ask you to please put SimpleSAMLphp on the ISO file of that distro and for slackbuilds.org to also have SimpleSAMLphp, thereby making any Slackware CDROM (to HDD) installation (for i586 or amd64) easy to make into a OpenIDConnect (OIDC with OAuth2) server. Include easy LoRaWAN support too shown upon booting like the how a Wifi desktop icon is in XFCE, please. It would be cool (sort of like wubi.exe did but via rtorrent) to have slackware have a boot option to type in a magnet link of a linux distro and attempt to download it (via rj45 DHCP ethernet cat5 home router) in addition to slackware (e.g. kwort or fedora or debian or an older or newer slackware so as to have slackware install it instead or in addition, perhaps dumping it on a fat32 partition on the hdd temporarily and in SWAP space). Keep the distro under 700MB though. Might as well ask just in case you feel like putting these things into slackware 15.1 or 15.2 anyway. Well actually, I'm kind of hoping you'd become inspired to include these things in slackware just by reading this even if the notion is new to you. Also this is to say thanks for making slackware and I hope to encourage others to do a donation for this too. I often recommend slackware to people and have done for about two decades.Sending kind regards from the British Isles, from myself. I saw the forum post about the T-Shirts.My comment has no hate in it and I do no harm. I am not appalled or afraid, boasting or envying or complaining... Just saying. Psalms23: Giving thanks and praise to the Lord and peace and love. Also, I'd say Matthew6.
Pat actually refunded me this $5 and it seems the reason is because he thought it was an "assignment". So donated the $5 again on 23rd September 2023, via Transaction ID 0XK49451SK068444F.
(quote Pat) "Hi, thanks but I don't accept assignments such as this so I'm returning your gift. Best regards, Pat" Transaction ID: 3DK558321H901181B (end quote)
So I just want to make it clear that I DID manage to send him that $5 again after he had refunded it. That way I have made sure that slackware (Volkerding) has the $5 donation. I reckon the 'temporary' refund was on account of just some small confusion as to how the $5 was initially to be donated. If you donate by that paypal link, maybe write "This is not an assignment but just a donation for loving Slackware".
Tempting though, to send multiple small "donations" for small tasks he probably won't do. Maybe for washing the dishes or something. Totally don't do that of course (cough cough). But do donate though.
Link to Slackware Donation methods like paypal
https://www.linuxquestions.org/questions/slackware-14/donating-to-slackware-4175634729/#post5882751
Link to Slackware Donation methods like paypal
Link to my post about how slackbook in rohingya and chittagonian could be useful
https://mov.im/?blog/preptorrent%40movim.eu/slackware-slackbook-in-rohingya-and-chittagonian-rOp1k4
Link to my post about how slackbook in rohingya and chittagonian could be useful
Link To My Botswana concept Hospital Train Linux theory
https://mov.im/?blog/preptorrent%40movim.eu/linux-and-health-trains-potential-concept-in-botswana-jGWlAF
Link To My Botswana concept Hospital Train Linux theory
#linux #slackware #skolelinux #debian #kde #foss #paypal #SlackwareBitTorrentOIDCLoRa