chevron_right

We are currently testing the Nvidia RTX 4090—let us show you its heft

news.movim.eu / ArsTechnica · Wednesday, 5 October, 2022 - 23:26 · 1 minute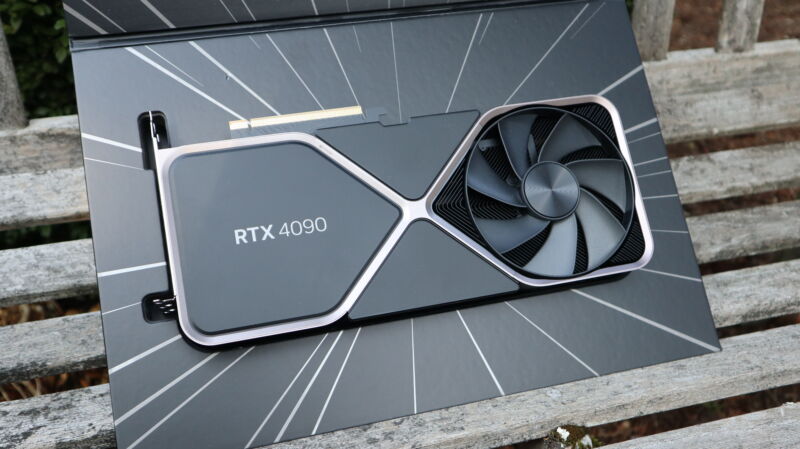 It's a busy time in the Ars Technica GPU testing salt mines (not to be confused with the mining that GPUs used to be known for ). After wrapping up our take on the Intel Arc A700 series , we went right back to testing a GPU that we've had for a few days now: the Nvidia RTX 4090 .
This beast of a GPU, provided by Nvidia to Ars Technica for review purposes, is priced well out of the average consumer range, even for a product category where the average price keeps creeping upward. Though we're not allowed to disclose anything about our testing as of press time, our upcoming coverage will reflect this GPU's $1,599-and-up reality. In the meantime, we thought an unboxing of Nvidia's "founders edition" of the 4090 would begin telling the story of exactly who this GPU might not be for.
A better look at the box's heft. [credit: Sam Machkovech ]
On paper, the Nvidia RTX 4090 is poised to blow past its Nvidia predecessors, with specs that handily surpass early 2022's overkill RTX 3090 Ti product . The 4090 comes packed with approximately 50 percent more CUDA cores and between 25 and 33 percent higher counts in other significant categories, particularly cores dedicated to tensor and ray-tracing calculations (which are also updated to new specs for Nvidia's new 5 nm process). However, one spec from the 3090 and 3090 Ti remains identical: its VRAM type and capacity (once again, 24GB of GDDR6X RAM).